The Forest Society of Maine (FSM) operates with nine full-time and one part-time staff members with diverse expertise who work to address the needs of landowners and communities, manage our organization's day-to-day activities, and conserve forestland in Maine.
Karin Tilberg, President/CEO
Karin joined FSM in 2011 and became President/CEO in 2017.  She brings her decades-long interest in and experience with Maine's North Woods to this position as well as a strong commitment to rural economic health and connecting conservation with community prosperity.
Karin has a B.S. in wildlife biology from the University of Vermont and a J.D. from the University of Maine School of Law. Before joining FSM Karin worked for decades in both the public and private sector focusing on conservation law and policy. In her free time Karin enjoys fly fishing, hiking, canoeing, Nordic skiing, and artistic pursuits.
Debra Capilli, Director of Finance and Operations
Debra joined the staff at FSM in the fall of 2013. Her duties include financial management, human resources, office management, and IT support and she has more than 30 years of experience from both non-profit and for-profit industry sectors. Debra moved to Maine from Massachusetts in 2003. She enjoys spending time with her family, exploring the state, and watching wildlife in every season. If she is wearing her camera you can be fairly confident that there is a moose nearby.
Erica Cassidy Dubois, Senior Forestland Steward
Erica has been an FSM staff member since August 2011. Her passion for the outdoors, conservation, and the advancement of rural communities has led her to earn a B.S. in Forest Ecosystem Science at the University of Maine and a master's in Community Planning and Development at the Muskie School of Public Service (USM). Erica is responsible for monitoring easement lands from Jackman to Millinocket. Outside of work, you can find Erica on the trails, fly-fishing for trout, writing, exploring, and seeking enlightenment on her yoga mat.
Annie Fitch, Development Associate

Annie joined FSM in November 2021 to support FSM's development needs. She earned her B.S. in Wildlife Ecology from the University of Maine in 2021. Annie has experience with several conservation organizations, including the Downeast Lakes Land Trust. In her spare time you can find Annie hiking, painting, photographing nature, and exploring the outdoors in any capacity.
Caroline Hilli, Forestland Steward

Caroline joined FSM in September 2021 to help oversee forestland easements and do baseline documentation for new projects. She earned her B.S. in Environmental Studies from the University of Vermont in 2018 and her M.S. in Environmental GIScience from Unity College in 2022. Caroline has experience with a variety of conservation organizations, including The Nature Conservancy Maine and most recently, Maine Coast Heritage Trust. In her free time, Caroline can be found hiking, fishing, skiing, and exploring Maine in any way possible.
Kristen Hoffmann, Senior Forestland Steward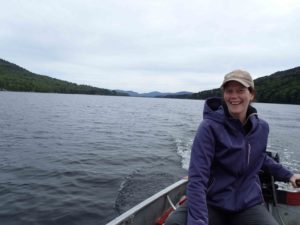 Kris was hired in 2007 to help meet FSM's growing land stewardship needs. She conducts ground and aerial monitoring for many of the current easements and compiles baseline documentation for new projects. She has a B.S. from Northland College in Biology and Psychology and an M.S. in Forest Management from the University of Maine. Kris previously served as the executive director of the Pemaquid Watershed Association. Currently Kris serves on the executive committee of the Maine division of the Society of American Foresters. When she's not at the office Kris likes taking long walks with her dogs and playing volleyball.
Janice Melmed, Development Director

Janice joined FSM in 2002 to expand FSM's development program. She has a B.S. in secondary education from Bloomsburg University and more than 25 years of nonprofit development experience. At FSM she manages all aspects of the annual fund, writes grant proposals, conducts prospect research, and coordinates marketing and outreach activities. In her spare time, Janice enjoys going for long walks, talking with friends around a campfire, feeling a tug on her fishing line, and viewing the night sky.
Jake Metzler, Director of Forestland Conservation

Jake joined the staff in the fall of 2004 to enhance FSM's land stewardship and conservation programs. He has both B.S. and M.S. degrees in forestry from the University of Maine. Jake's expertise in forestry, remote sensing, and GIS has led to building an efficient monitoring and stewardship program tailored to the varied terms and conditions of FSM's easements. In his free time, he enjoys spending time at camp or at youth sporting events, and downhill skiing with his wife and two daughters.
Vanessa Mutty, Office Coordinator

Vanessa joined FSM in the summer of 2021 as FSM's part-time office coordinator. She brings more than ten years of office experience and customer service. Vanessa will be assisting with daily operations and aiding other departments as needed. She enjoys spending time with her family, reading, and exploring Maine with her dog.
Kristin Peet, Forestland Conservation Specialist

Kristin joined FSM in 2018 as the Forestland Conservation Specialist to assist in developing new conservation projects. She graduated from the University of Maine with a B.S. in Wildlife Ecology and a Master's degree in Forestry. Prior to her work with FSM, she managed wildlife populations and habitat, conducted research projects, and wrote grants for the Penobscot Nation's Department of Natural Resources. Kristin has 16 years of experience networking and collaborating with multiple agencies to complete a variety of projects.
Kristin lives in Winterport with her family, dogs, and honeybees. She can be found romping outdoors, peeking into her beehives, or gardening in her free time.