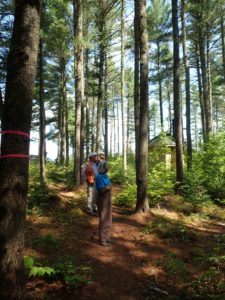 The Forest Society of Maine (FSM) recently accepted the generous gift of approximately 80 acres of forestland located along Rt. 15 in Greenville.
The Nickerson Tree Farm property was donated to FSM by Ellen Poole in July. Ellen is the daughter of the late Dr. Norman Nickerson, who started his decades-long career as a physician in the Moosehead Lake region in 1920. For many years, Ellen has kindly invited the public to enjoy her property via walking and skiing trails that loop through the woodlot. Under the terms of her gift, FSM anticipates assessing the existing trail network, working to maintain the trails, and exploring new ways to provide outdoor recreation and environmental education opportunities for students and adults living in and visiting the Moosehead Lake region.
"I trust the Forest Society of Maine," Mrs. Poole stated at the time of the donation, "that's why I'm giving my land to them." She added, "I know they will be good caretakers."
"In addition to being a fantastic place for families to walk and ski, Nickerson Tree Farm has an amazing location as part of the Rt. 15 gateway to Moosehead Lake," said FSM Executive Director Karin Tilberg. "We're honored and humbled to be a part of Ellen's legacy, and we're excited to work with the community to fulfill her vision for the long-term care and stewardship of the property."
Nickerson Tree Farm is adjacent to the Moosehead Lake Region Visitors' Center where FSM currently maintains an office.
Individuals or groups interested in learning more about the Nickerson Tree Farm are encouraged to contact FSM at 207-945-9200.