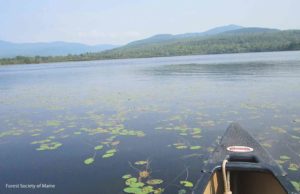 Adapted from FSM's Spring 2016 Newsletter
Over the broken back of Saddleback Mountain lies Silver Lake, far from city habitation, hemmed in by mountains and thick, black woods that crowd close to the water's edge. Here one may sojourn on its bank for long, contented days and quiet restful nights without number and forget the noisy, work-a-day world beyond the blue rim of the mountains." From Vacation Days by Pauline Green, 1926 Brownville H. S. Reflector
Silver Lake and its surroundings have remained largely unchanged since Pauline wrote these words close to 100 years ago. The Forest Society of Maine (FSM) is working with two landowners to keep it unchanged by conserving 18,000 acres around Silver Lake, the West Branch of the Pleasant River, and the high elevation streams that feed them. When completed, the Gulf Hagas – Pleasant River Initiative will conserve productive forestland, four mountain peaks, a free-flowing river, wetlands, and important wildlife habitat.  These lands also tie together key amenities of importance to regional recreation and tourism, including the Appalachian Trail (A.T.) and a popular access point for the A.T., Katahdin Iron Works (KIW) State Historic Site, Gulf Hagas (a National Natural Landmark), and numerous campsites and other hiking trails.
The Gulf Hagas – Pleasant River region has a long history of forestry and recreation going hand-in-hand. When driving along the Katahdin Iron Works Road you can see remnants of the historic Iron Works, which at one point employed 400 people. Opened in 1843, KIW was supplied with ore from nearby Ore Mountain. The ore was transported by horses and other draft animals roughly one mile to the furnace, where it was melted into large blocks. It was then transported by wagons to Bangor to be shipped.
Katahdin Iron Works was an extensive operation that included a blast furnace and at least 16 charcoal kilns. These were fed each year with thousands of cords of wood cut from the surrounding forest by hundreds of men and their teams of horses and oxen. Many KIW employees and their families lived near the current historic site. During its heyday the village held upwards of 100 homes, a small school, a blacksmith shop, a store, and two nearby boarding houses. Katahdin Iron Works saw several owners during the short time it operated before closing in 1890.
In the 1880s a rail line was established to Silver Lake, and with it came a new wave of visitors. The landscape had many natural features which made it a popular destination. The three-story Silver Lake Hotel could accommodate between 75 and 100 people. The hotel drew guests from across the country and was marketed for its natural surroundings and the restorative effects of its fresh air. Boasting a "grand combination of lake, valley, mountain and forest scenery" the area became renowned for fishing, hunting, boating, and reliable guides. The hotel operated until 1913 when it burned to the ground and was never rebuilt.
Today more than 10,000 people pass through this area each year. They pursue many of the same activities in the same surroundings as have generations before them. FSM, through the Gulf Hagas-Pleasant River Initiative, is working to ensure these forests stay as forests – undeveloped and productive – and that access remains available for future generations. For more information or a copy of FSM's spring newsletter contact Karin Tilberg, FSM Deputy Director at Karin@fsmaine.org.
Sources:
Sawtelle, William. Katahdin Iron Works and Gulf Hagas:  Before and Beyond. 1993.
Maine Department of Conservation, Bureau of Parks and Lands. Katahdin Iron Works brochure.