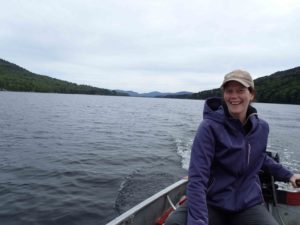 FSM takes its responsibility to oversee, or steward, conservation easements very seriously. When easements are used to conserve forestlands, a landowner has trusted FSM to manage their vision and the conservation values of their property forever. These responsibilities can be daunting, but by carefully reviewing the easement terms and becoming familiar with the lands themselves, plans for monitoring the land are developed that  address the specifics of each easement property.
Stewarding a conservation easement typically involves a variety of activities. There are exciting on-the-ground adventures in the forests that may involve looking for signs of loon nesting success, along with days spent in the office poring over legal documents and long drives to meetings throughout the state.
To be an effective forestland steward means remembering  the nuances found in 25-50 pages of easement wording as you board a small floatplane to fly for hours in early spring checking the land from the air. It means understanding the biology of our ever-changing forests and the practices and procedures that landowners use to sustainably harvest their lands. However, most importantly, beyond the wording of the easement, ground visits, and monitoring reports, it means talking with people. Communicating with the landowners, the neighbors, the loggers, the wildlife biologists, and the recreationists is vital to FSM's stewarding of each and every conservation easement project.
FSM takes pride in its stewardship program and we welcome the challenges and expectations that come to us with each new project.